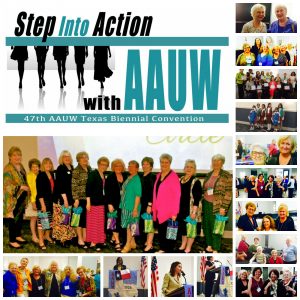 Saturday Speakers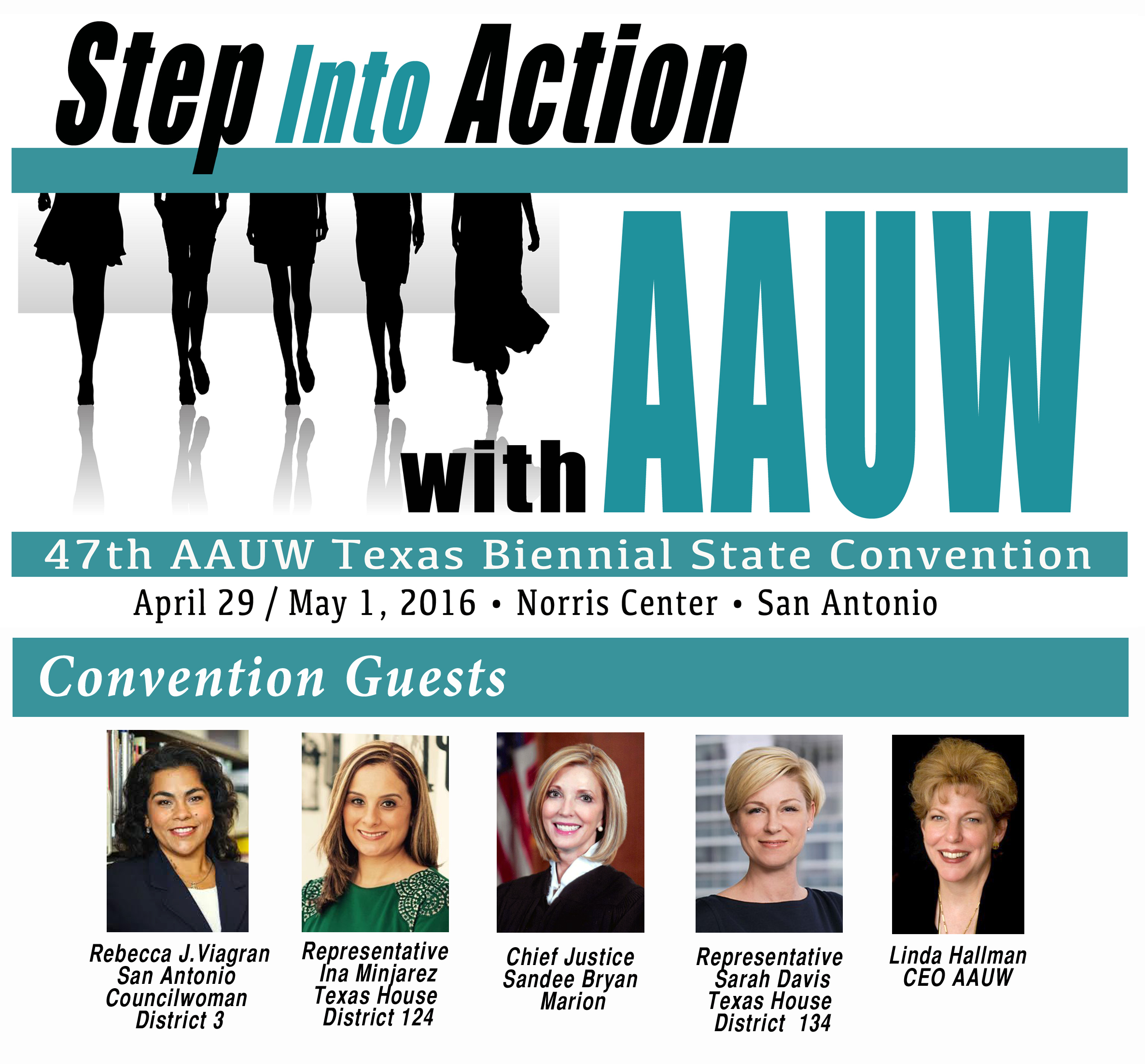 Sunday Speakers

---
47th AAUW Texas Biennial State Convention

Updates
Proposed Bylaws Changes At the AAUW Texas 2016 Convention
There will be a vote on proposed bylaws changes submitted by the Bylaws Committee and branches. Click here for the complete copy of the AAUW Texas bylaws showing the following:
Mandatory changes from AAUW national in

blue

and
Proposed changes to be voted on in

red

.
The rationale for the changes are:
Article IV. Section 3.a.(4)(c) to clarify that every branch member in the State of Texas must be a member of AAUW Texas;
Article IV. Section 5.d  is proposed for deletion since AAUW is no longer affiliated with IFUW;
Article V. Section 1.a is proposed to increase the pool of members available to serve as chair and alternate chair of the nominating committee; and
Article XVI. states the current applicable law.
Article V. Section 2 and Article XIII.  These changes are proposed to conform AAUW Texas voting with AAUW national One Member One Vote.
---
Proposed AAUW Texas State Dues Increase for 2017 – 2018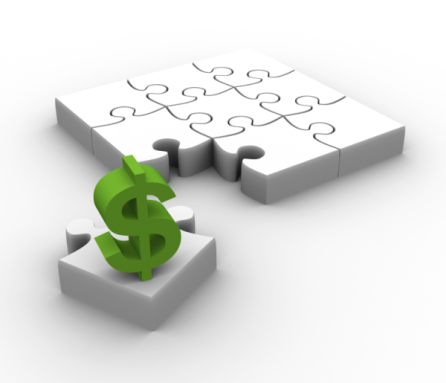 For more years than many of us can remember, annual AAUW Texas State dues have been:
AAUW Texas State Dues (including Paid Life Members):      $10.00
AAUW Texas Undergraduate Student Affiliate Dues:               $1.00
Honorary 50 Year Life Members (AAUW members for 50 years, plus): $0.00
After a review of the current economic trends & the increased cost of simply doing business, the 2014-2016 State Board is proposing a $3.00 per member increase in state dues beginning with the 2017-2018 membership year. The reasoning behind this increase is in line with the AAUW TX State Board Strategy and National Strategy:
Everyday rise in operational expenses,
Increased state-wide visibility efforts at Women's Conferences and marketing which leads to branch growth
More effectively network with like-minded organizations on a state level thereby increasing AAUW 's visibility
Increasing benefits and incentives offered to smaller more rural branches in the area of mission based programming, onsite leadership training, team and branch rebuilding support
Increase in requests for State support & sponsorship of AAUW programing on College/University Partners campuses in cities where there is no AAUW Texas Branch, (ex: ElectHer, TechSavvy)
Efforts to assist & support the formation of new branches in areas where there were once thriving AAUW branches
Recruitment of Colleges/University Partners where branches do not or no longer exist & provide support & assistance to branches in reaching out to Colleges/Universities to become C/U Partners
The ability of the AAUW Texas State Board to more effectively 'give back' to our branches
AAUW and AAUW Texas State Dues Structure in 2017 would become:
National Dues: $49.00
2017-2018 AAUW Texas State Dues (including Paid Life Members): $13.00
AAUW Texas Undergraduate Student Affiliate Dues: $1.00
AAUW Honorary (50 yr) Members: $0.00
Individual Branch Dues: varies (see individual branch structure)
This dues change must be voted on by the AAUW Texas membership at the 47th Biennial State Convention, April 30, 2016 Business Meeting along with the proposed AAUW Texas State Bylaws revisions.
For questions and concerns, please contact your District Representative:
---
R.E.A.P. 
 the recognition your Branch deserves
We R.E.A.P. the benefits of our AAUW membership through Research, Education, Advocacy and Philanthropy.  AAUW Texas seeks to recognize all the ways our Texas branches sow the seeds that reap benefits for our members and all women and girls in our communities.
This recognition program is just that…recognition of the work your branch does to level the playing field for women and girls through research, education, advocacy and philanthropy.  This is not a competition…it is a way of acknowledging what you do and sharing your ideas with branches in other communities. 
Deadline: March 15, 2016
Send electronically (preferred) to: margiepoole11@yahoo.com