AAUW Texas Thinks It Is Time to Finish the Ann Richards American Fellowship At the 2018 AAUW TX Convention
AAUW Texas is matching any and all contributions made to the Ann Richards American Fellowship Fund dollar for dollar until the convention in April.
AAUW-Texas established a new Educational Opportunities Foundation fellowship fund in honor of former Governor Ann Richards. In October, 2008, the AAUW Board approved the Ann Richards American Fellowship and assigned fund number 4324.
Pick Ann Richards American Fellowship from the Fellowship dropdown on the  AAUW donation page to make a direct donation.
American Fellowships support women doctoral candidates completing dissertations and scholars seeking funds for postdoctoral research leave or for preparing completed research for publication.
Applicants must be U.S. citizens or permanent residents. One-year postdoctoral research leave fellowships, dissertation fellowships, and summer/short-term research publication grants are offered.
Designate AAUW Funds Contributions
Designate your branch and/or individual AAUW Funds contributions to fund # 4324. Our commitment is to reach the American Fellowship level of $200,000, after which this fund will become part of a long—since 1888—and illustrious history of women supporting women to achieve their academic and professional goals.
Within the first 9 months, AAUW Texas members raised more than 10% of the total needed, but we have a long way and a shorter time.
Checks are written to AAUW Funds with the memo line designating fund #4324. The check may be sent via local AAUW branches, via the AAUW Texas AAUW Funds VP or directly to National AAUW. A branch will receive credit if the AAUW Contribution Report Form is used and the branch affiliation is indicated at the bottom. At the top, iIn the FELLOWSHIPS drop down box, select "TX – Ann Richards"
If member is unable to locate the Ann Richards fellowship in a drop down box or if a non-member wishes to make a contribution to this fellowship, call the Development line at 202-728-3307. All credit cards are accepted by phone and it will be processed.
Ann Richards
Her career path and achievements meshed with AAUW's mission: teacher, political activist, county commissioner, state treasurer (first woman elected to statewide offi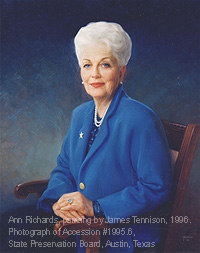 ce in more than fifty years), a candidate who appealed to suburban voters as well as to the traditional Democratic base, and then governor. Although officially she was the second woman to hold Texas' top office, Richards is considered the first woman elected governor in her own right.
In the fall of 2007, the Austin Independent School District opened The Ann Richards School for Young Women Leaders, a college preparatory school for girls. The Ann Richards School started with 6th – 8th grades, and will add a grade each year, graduating the first 12th grade class in 2013.
For more of Ann Richards' history, see her wiki entry.