AAUW Texas members are involved in a number of community projects to further our mission. To participate in these efforts, contact your local branch.
Projects to Encourage Young Women to Succeed
Encouraging Young Women To Study Math & Science
AAUW branches throughout Texas organize or co-sponsor local STEM Math/Science Conferences and Science Forums designed to nurture young women's interest in mathematics and science careers and to expand their career vision in these areas. Contact the West Harris County, Austin or Nagcogdoches Branches, who are among the many who sponsor EYH conferences.
Thank you for supporting computer science
and making the Hour of Code an amazing success.
Computing…Where the Jobs Are
By Jeannie Best, AAUW Texas State President and member AAUW Abilene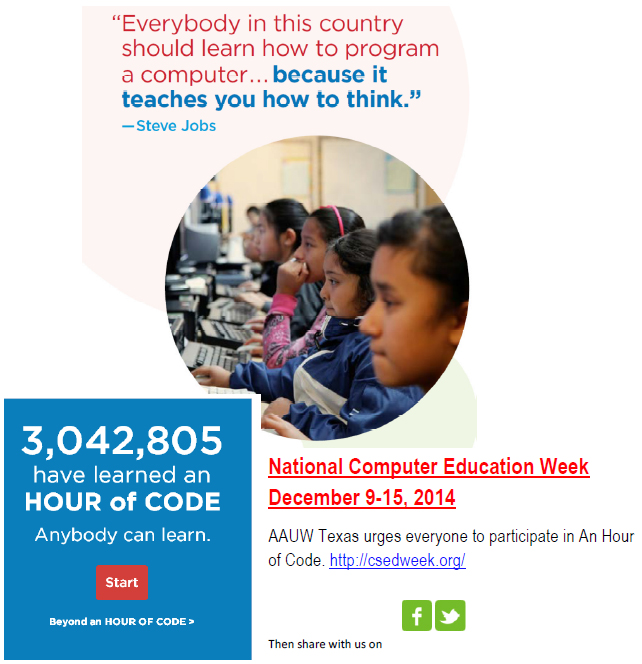 Computers are everywhere. They are in our pockets, on our walls, in our cars. Computers are a critical piece of our infrastructure, from power grids to traffic lights to the inner workings of our financial markets. And all of these computers have one thing in common. They depend on software to tell them what to do.
But who exactly is going to write this software?
Considering how fast our world is being transformed by technology, you might expect the number of students studying computer science today to be at an all-time high. You would be wrong. In fact, fewer students are studying computer science, and fewer schools are teaching it, than a decade ago.
At a time when demand for skilled programmers has never been higher, our country is turning out fewer computer scientists. Even in this time of high unemployment, thousands of jobs are going unfilled for a lack of enough individuals with the right skill sets.
Why is this? And how can we address it?
The problem begins in our middle and high schools. Nine out of ten of schools in our country do not offer computer programming classes. We are simply not doing enough to prepare or encourage our students to pursue these high-paying, vital careers.
Nearly all major computing innovations were invented here in this country, but we are at risk of losing that leadership if we do not do something now.
We need to make some changes.
In the majority of states, computer science classes are treated as electives and cannot be used to fulfill math or science requirements. Legislation passed in 2013 created new Texas high school graduation requirements that become effective beginning in the 2014-15 academic year. Technology Applications is among the categories of applied S.T.E.M. courses that the SBOE can allow to be used to satisfy a math and science requirement under the Foundation program.
We can also start working with students at a young age to spark their interest in computer science and programming. Our children should not just know how to use apps and play video games – they should know how to create them. Children can learn the basics of programming as early as the second grade.
According to the Bureau of Labor Statistics, by 2020, there will be 9.2 million jobs in STEM fields. Half of those jobs—4.6 million—will be in computing or information technology. Who will fill these jobs if our children are not given the opportunity to gain the skills needed?
The week of December 8–14, is Computer Science Education Week. Computer Science Education Week is observed each year in December in recognition of Rear Adm. Grace Murray Hopper's birthday. Hopper, a computing pioneer, received the AAUW Achievement Award in 1983 for her critical contributions to computer science, including co-inventing the computer language COBOL. In communities throughout our great state, Texans of all ages will be participating in a national Hour of Code, demystifying the subject of computer science and hopefully whetting their appetites to go on and learn more. AAUW Texas and AAUW Abilene members will be among them, and we invite you to join in as well. Everyone should learn how to code. Visit www.csedweek.org to learn more and get started. And support our efforts to bring computer science to more schools in Texas.
Sister-to-Sister Summits
One-day forums which give girls an opportunity to discuss issues of importance to them and to plan possible action on the issues. Contact the Betty Anderson Lubbock Branch for information on their Sister-to-Sister program.
Education is the Gateway to Women's Economic Security
WAGE Clubs
Some AAUW Texas branches sponsor WAGE clubs to help end discrimination against women in the American workplace in the near future. To do that, WAGE inspires and helps working women to take the steps needed so that every woman is paid what she's worth. (San Antonio sponsors one. WAGE club information can be obtained here. Or on the AAUW site here.
Transitions Conferences
For women to succeed in the current employment climate, they must have the skills necessary to participate in the knowledge economy. For most, this means obtaining a college degree or other advanced education. But for many women, the challenges of going to college after years out of the formal education system are an impediment. Transitions Conferences are designed to help women to anticipate and overcome these hurdles and achieve the degrees that will enable them to reach economic security.
Financially Fit For Life
AAUW's growing portfolio of financial literacy programs offers exciting new opportunities for states and branches to schedule into spring and summer plans. Association has a number of program templates available.
In Texas at the July 2007 Leadship Conference, Prudential offered the following study—the fourth in their series about the financial experience and behaviors of women—which …"indicates that [this] awareness and basic knowledge is not inspiring women to take the appropriate actions that will help ensure they maintain their desired lifestyle as they move through the next 20 to 30 years of their life."
Texas Conference for Women
The conference first opened its doors in 2000, and since then it has grown to attract more than 7,500 attendees and impact the lives of thousands of Texas women.
After a decade, the Texas Conference for Women is a non-profit, non-partisan, one-day event for Texas women to connect, learn practical and professional strategies from nationally recognized experts, and network with peers
http://www.txconferenceforwomen.org/
AAUW Voter Education Campaigns
Critical issues — educational equity, retirement security, a fair and balanced judiciary, civil rights, workplace equity, reproductive rights, healthcare reform, and equal pay — are at stake each time Americans go to the ballot box.
Candidate Forums
Branches throughout Texas sponsor or co-sponsor candidate forums for general and school board elections.
Voter Education / Registration
Critical issues — educational equity, retirement security, a fair and balanced judiciary, civil rights, workplace equity, reproductive rights, healthcare reform, and equal pay — are at stake each time Americans go to the ballot box.
AAUW's Voter Education Campaign encourages women voters to get involved in the political process and shows the impact congressional action has on their lives and the lives of the people they love. Many AAUW Texas Branches are holding voter registration drives and candidate forums. AAUW national can also help.
Woman to Woman
Other branches hold Woman-to-Woman Voter Turnout Campaigns.